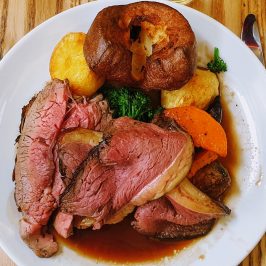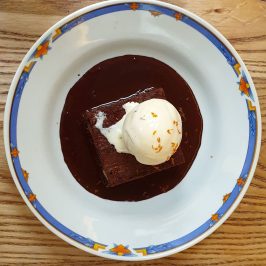 SPRING BANK HOLIDAY SUNDAY
With the long weekend around the corner and the forecast – fingers crossed – looking promising we will be open all day Sunday from 11.30 am until 10 pm.
Let us do the heavy lifting in the kitchen so you can sit back and enjoy our famous roasts and an amazing array of wines.
There is plenty of room in our secluded Georgian garden as well, so you can make the most of the sunshine.
Sunday Lunch Menu
Order 1, 2 or 3 courses from the choices below OR a selection of small plates to share
 2 Courses £19
3 Courses £24
 Starters / Small Plates
Silver skin anchovies, baby gem, salsa verde, parmesan, croutons – £7
Padron peppers – £5.5 (VE / GF)
Roasted cauliflower, wild garlic pesto, pine nuts – £6
Salad of fennel & kohlrabi, watercress pesto, feta cheese, poppy & sunflower seeds – £4.5 (V / GF)
Fried pig's head terrine, pickled walnut, piccalilli  – £6.5  (V)
White crab meat, egg, mayonnaise, chives & lemon served on toast with celeriac remoulade – £8.5 (V / GF)
——————–
 Mains
Roasted topside of beef, Yorkshire pudding, today's veg, red wine gravy – £18 / £2 supplement (GF*)
Roasted leg of lamb, Yorkshire pudding, today's veg, red wine gravy – £16 (GF*)
Mixed roast – beef and lamb, with all the accompaniments – £22 / £5 supplement (GF*)
 Confit leg of Duck, spicy lentils & broccoli, red wine jus – £15 (GF)
Whole grilled plaice, brown shrimp & caper butter, roast new potatoes £19 / £3 supplement (GF)
Spinach, Ricotta & tomato strudel, jersey royal potato – £15 (V)
 ——————–
 Desserts
Chocolate & peanut brownie, chocolate sauce, vanilla ice cream-  £6 (V)
Lemon panna cotta, cocoa shortbread, blood orange curd – £6 (GF*)
Custard Tart, poached rhubarb & rhubarb sorbet  – £6  (V)
 Ice creams – £4.5 (GF) / Sorbets – £4.5 (VE / GF)
Cheese – £10 / £5 supplement
———-
Kids Meals
Beef or pork, served as above – £8
Spinach, ricotta and tomato strudel, served as above – £8
Cod goujons (x3), pea puree – £8
 V = VEGETARIAN / VE = VEGAN / GF = GLUTEN FREE (* = WITH MODIFICATION)
Chapel Row will be open for lunch and dinner this Sunday 26th May
11.30 am – midnight
(food served 12-3.30 pm and 6-10 pm)
Call 01225 423417 to book a table