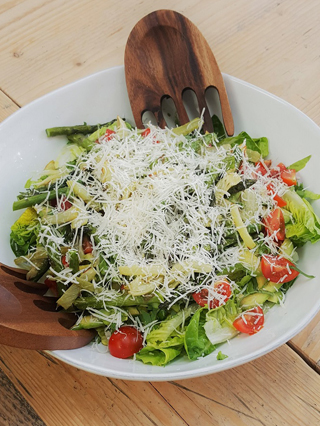 Ingredients:
1 bunch new season asparagus – washed, ends off, halved
1 medium head of fennel – washed & roughly chopped
1 lemon
White wine vinegar
Extra virgin olive oil
Rock Salt & Pepper
Thyme
Cumin seeds
Baby gem lettuce washed & chopped
1/2 punnet cherry tomatoes – cut in ¼'s
Pecorino Romano cheese
Corkage Recipe – Roast English asparagus & fennel salad
Method:
In a medium-hot oven (180ºc) place the chopped fennel on an over tray, season with a sprinkle of salt, pepper, cumin seeds & a few sprigs of thyme and roast off for about 20 mins, mixing occasionally.
Once the fennel has a little colour and is almost cooked, add the asparagus and drizzle with a little more oil & season a little with rock salt. Place back in the oven and cook for 4 mins, then remove from the oven & turn the oven off.
Grate lemon zest over the top of the fennel & asparagus, mix and place back in the oven for a couple of mins to allow the lemon oils to season the vegetables. Remove from the over and allow to cool a bit.
In a large bowl place the chopped baby gem (I like to cut mine from top to tail so they keep some of their shape), the cherry tomatoes.
Place the warm fennel & asparagus on the top of the salad, drizzle with lemon juice, a little white wine vinegar & a decent slug of extra virgin olive oil & toss together. To finish grate the Pecorino over the top of the salad and serve.
Tweaks:
Stale bread? add garlic & herb croutons to the salad for extra crunch…
Love your nuts? Add toasted pine nuts or toasted flaked almonds to the salad.
A bit spicy? Add chopped fresh chilli to the salad and cool the heat with mint to give it balance.