WILD CORKAGE IN THE WOODS!
On the 23rd of June we shall be taking a trip to the woods outside Bath for an evening of wild cooking & wine under the stars. Picture charcoal roast meats, wood roast fish, wood baked shellfish & evensong with a glass of your favourite wine in your hand..

 The Plan
Meet at Corkage Chapel Row at 4pm for a welcome glass & browse our wines to buy the off sales wines you wish to take with you for the evening.
Chariots will arrive from 5pm whisk you out to the woods where there will be a short walk to Camp Corkage.
Setlle into the evening with a few glasses of wine whilst listening to stories of bushcraft & woodland adventures.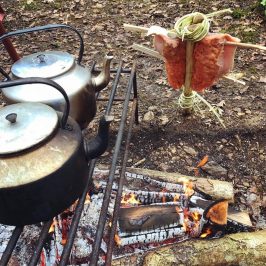 Eat and drink the night away family style in front of blazing fires until the witching hour (about 11.15)
Your chariots will return to ship you back to Chapel Row where you will be free to spend the rest of the evening with us waxing lyrical about shooting stars and Bigfoot.
Sound like fun…..? Read on!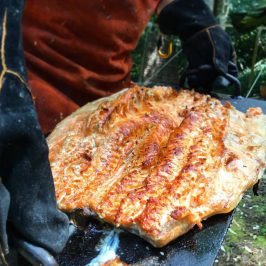 Wild Corkage Menu
Roast & smoked oysters & mussels
Squid
Flatbreads & focaccia
Frame roasted Salmon
Spit roast pig
Venison ras-el-hanout
Roast poussin
Wood baked vegetabes – celeriac, cauliflower, carrots
Fire baked potatoes smoked garlic butter
Corkage salads & dips – including
Puy lentil & feta, tomato white balsamic, summer slaw
Wood roast peaches & mascarpone
£75/head
including welcome drink, tall stories & transport to & from
call (01225) 423417 to book your tickets