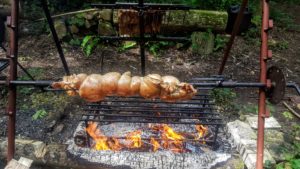 WILD CORKAGE IN THE WOODS
Wild Corkage in the Woods.
Dine with us in the woods of Midford just outside Bath, a unique artisan day of food and wine, fire and coals.
Your ticket includes a Cookery Demo and a Wine Tasting
Lunch: 13.00 – 16.30 pm £65 ppn
Dinner: 17.30 – 22.30 pm £85 ppn
Saturday 14th September @ Wild Cooking Bath, Midford BA2 7DF
Please call 01225 423417  or click the Reservation button below to book your ticket
Reservations
Reservations
Woodsmoke and Wine
Team Corkage invites you to join us for our second outing to the woods at Midford.
Expect a feast of fire-cooked deliciousness and fantastic wines.
Take a peek below to see what will be on the menu and the wines on offer.
The Corkage team will be doing our very own form of  'bushcraft'. Namely, a Cookery Demo and a Wine Tasting!
Food

Lunch: £65
Free drink on arrival included
1.00pm-4.30pm
Corkage sourdough
–
Charred sardines with roast lemon salsa verde
Cured and hot smoked salmon
Marinated cuttlefish skewers
–
Herb stuffed, fire roasted poussin
Corkage's homemade beef sausages
Roast beef sirloin, fire smoked and slow cooked
–
Chargrilled hispi with seaweed butter
Babaganoush from the grill
Summer slaw
Spiced Puy lentils
Spuds
–
Summer fruit salad Eton mess
Wood roast peaches with madeira
Dinner: £85
Free drink on arrival included
5.30pm-10.30pm
Corkage sourdough
–
Cured and hot smoked salmon
Baked oysters
Marinated cuttlefish skewers
–
Roast rib of beef, fire smoked and slow cooked on the bone
Pork belly – marinated in our spice mix and fire roasted
–
Chargrilled hispi with seaweed butter
Whole fire baked celeriac with truffle dressing
Babaganoush from the grill
Summer slaw
Spiced Puy lentils
Wood fired roasties
–
Summer fruit salad Eton mess
Toasted marshmallow & peach pancakes
Wine
Furleigh Estate Classic Cuvée NV, Dorset – England £30.00
–
Entre Vinyes Oniric Rosé 2018, Penedes – Spain £16.00
–
Sauvignon Blanc 'Petit Bourgeois' 2018, Loire – France £14.00
Albariño Liebre y la Tortuga 2017, Galicia – Spain £15.00
Torrontes, Matias Riccitelli 2017, Mendoza – Argentina £15.75
Crosby Chardonnay 2017, Napa – California £18.25
–
Pinot Noir, Andreas Bender 2016, Pfalz – Germany £16.00
Lo Petit Fantet Château Ollieux Romanis 2017, Corbières – France £13.25
Syrah 'Silhouette', Olifantsberg 2014, Western Cape – South Africa £17.00
Zinfandel, Hilt and Blade 2017, Lodi – California £17.50